I'm still sooooo freaking tired, because I still don't sleep all too well, which sucks. Here on vacation though it isn't due to all the thoughts running through my mind, but rather the traffic running through the street outside my window. And the noise from the bar on the other side of the street. I use earplugs here, even though I don't really like them. And they don't block or all the noise anyway. Still last night was the first one I felt like I got a decent amount of sleep, probably because my body needed it,  noise or not. And I'm still so tired now around 8 PM local time.
Besides all that I'm having a lovely time, once I let go off the thought that I have to do and see all the things all the time. I sometimes feel like I put too much pressure on myself to make the most of this trip and that's nonsense,  because by now I should have learned that a good vacation is not about how much I did or saw. It's about how much I relax and feel good and just "recharge my batteries" so to speak.
So, on Sunday (Day 2) I strolled along St.Brelade seaside and visited La Corbiere lighthouse with a guided tour. It's my favourite lighthouse and I heard even more interesting stories and facts this time. Channel Islands have a tidal range of more than 10 metres (30 feet) which make the lighthouse unavailable for half the time….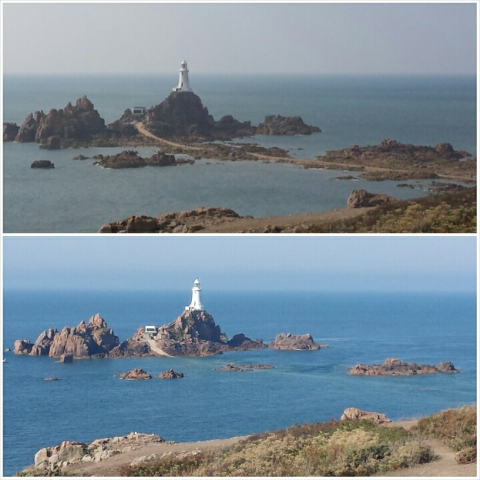 On Monday (Day3) I spent half a day at an old Manor house with a really nice garden. After another night with not enough sleep I knew Day4 had to be a lazy one. And besides a stop to take high tide photos of the lighthouse I spent all the afternoon on a very nice beach. Sitting on a rock, reading or just watching the sea. Or cute little kids having a great time in the surf. So relaxing. Maybe that helped to give me the decent night off sleep :-) After being outside most of the time on 2 very sunny days  I felt like my scalp might have got a bit sunburned. I know I should have brought a hat. So I went and bought a multifunctional headband with UV protection, which is much more fun to look at on a beach selfie, right?
Today I visited the amazing Durrell Wildlife Park, strolled around some more, enjoyed a very yummy chocolate brownie and am now planning to go to bed freaking early, because. .. (see above)
Oh, I also used these days to read another Jojo Moyes novel – "Ship of Brides" – and enjoyed it a lot. Much more than I expected to,  I admit. Yeah, that happens with a lot of her novels actually.