Lately I've been feeling kind of fragile,
Lately I've been feeling all worn out
(Faithful Son ~ Frank Turner, 2009)
The last few weeks have been kind of weird for me. I was floundering so much at work and in life in general and especially with my My Peak Challenge workouts or any healthy habits. At the end of October I was rather motivated in that regard and for reasons unknown once the calender switched to November that changed rapidly. I can't explain why and I'm quite disappointed at myself for it. I would like to blame it on busy days and a lack of sunlight and a lack of sleep, but that wouldn't be quite fair. Especially as I'm to blame for the lack of sleep in the first place. But it's not easy to get out of a strange patch of feeling overwhelmed and unfocused and if not quite unhappy, not really happy either. Thinking about the general state of the world and the stream of sickening news each day (politics, sexism, gun violence) and it's no wonder I'm feeling a bit blue. Every other day I told myself I would do better tomorrow and not spend the evening being a lazy couch potato. But then evening rolled around and… *sigh* And that's not even about the workouts because I need to do these in the mornings, that's something I've learned by now.
-~~~
Two projects or assignments at work which I had been fretting and worrying about for a while came to a good end this week. Finally. The first impulse was to write "not a bad end" and this glass-half-empty-mentality might be at the roots of some of my issues *sigh*
~~~
After being lazy and sluggish for the last almost ten days, I'm (once again) determined to start over with the remaining week 4 of my month 5 of the My Peak Challenge program. I also went out for a run this afternoon; the first one in more than ten days. Most of the time when I could have done that in the past two weeks it was either too dark or it rained. I was quite lucky in catching one of the few breaks in the downpour today. After the first dry spell it had started raining again while I was at home changing into my gear and I was tempted to discard the whole plan. I talked to Bro3 on the phone for another reason at that time and he assured me that the rain would stop soon. And it did, so I hurried off to my trail, where I did a 4K in a ok pace (9:24) considering I have not been active these past few days. And right when I got back to my car it started to rain again. Perfect :-)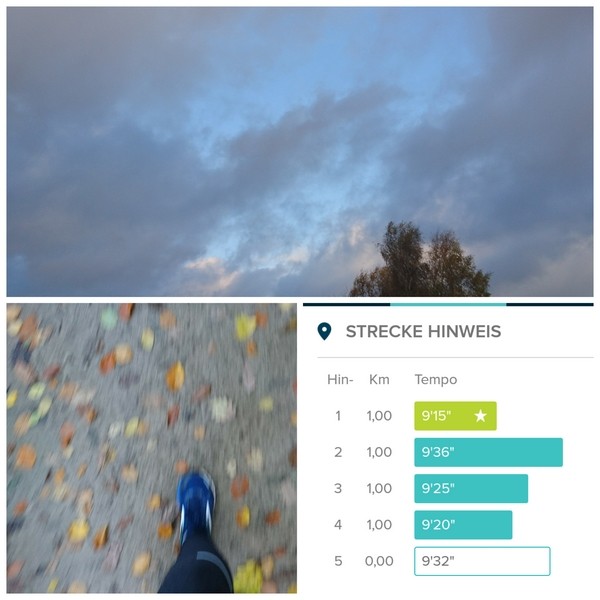 ~~~
Quite a bit is happening in the Frank Turner music-verse at the moment. He and the Sleeping Souls finished recording the next album, he shared a lovely new song "There She Is" which introduced the new sonic direction he is going with on the next album – more additional electronic / synth sounds and also…. a horn section *sigh*. Various Instagram snippets also revealed strings and gospel choir background singers and cardbord boxes beats ;-) and I'm excited for album 7 early next year. There will be a greatest hits / retrospective double album at the end of November with new versions of old songs and a few more gigs in the Greater London area this month.
There also were rumblings about a Möngöl Hörde "thing". I guess: new music and maybe a few gigs. Möngöl Hörde is Frank's side-project. Some might call it a hobby beside his day job as folk-punk singer/songwriter/artist. Möngöl Hörde is hardcore punk. Or as I like to call it: Noise, that makes head hurt! Seriously! I just can't stand listening to it. And I always have a bit of hard time wrapping my mind around that this guy
and this guy
are actually the same person. It feels a bit like Dr. Turner & Mr. Hyde :-) But then I always remember that his latest album "Positive Songs For Negative People" starts with "Angel Islington", followed by "Get Better". Sound wise that's quite a jump as well. Anyway, my reaction to this potential comeback of Möngöl Hörde was
And that's a ride I'm sitting out again. Everyone who's into it: have fun. While I'll keep listening to @frankturner's folksy stuff instead https://t.co/HvioT7c3Gr

— Susanne D (@dennasus) 2. November 2017
Which I actually did on my way back home from work that day. I've mentioned often enough that I haven't listened to Frank's albums track-by-track in the beginning, but I remembered "England Keep My Bones" (2011) to be the probably most folk-oriented of his full band albums, not just because those were songs about England (in the broadest sense). I also realized that there are a lot of great tracks compiled on this one. I might not have been the biggest fan of some songs from the first listen, but after I've heard them live at a gig for the first time, I definitely enjoyed them a lot more. Which says something about Frank and the Souls as live band, I'd say.
I've been working on an "album review" post for that album; just for the fun of it and I hope to finish that this weekend. All of the above was actually a prologue part of that post, but then I decided to focus on the songs on the album without much ado.