It's not been easy to sum up the events and emotions from this weekend in a comprehensive way. On the train ride back home last Tuesday I started thinking about what and how I would write about it here and I knew a typical "Frank Turner show review post" wouldn't make much sense. I wanted to make it more personal than that anyway. I'm not sure this piece does the trick. It's the best I could do…
Thanks a lot to my friend Amanda for being my "partner in crime" and to my friend Emily for 'ditching her family' for a few evenings in a row to join us at the Roundhouse. It's been so nice to experience this with you two.
Here now are my favourite ten of the many small or big moments I'll keep close to my heart from this year's Lost Evenings Festival.
"It's time to make some little changes…"
#01 Going for a run in London
Not quite Lost Evenings specific, but important to me anyway. The day before I left home I spontaneously decided to bring my running gear. Not because I'm such an avid runner who needs to run regularly. Basically just because
a) I knew I have been too lazy recently
b) I hoped running somewhere else than I usually do would be more of a motivation to actually go for a run and
c) to be honest I just once wanted to be able to say "I went for a run along Regent's Canal in London". A vain reason maybe, but I don't care.
I did get that done on Friday morning and it was lovely. (Before the weekend I had
actually considered doing it once more on Monday, but… nope)
"Everyone can raise a glass and sing"
#02 Being part of the Safe Gigs For Women Pub Quiz
Teaming up with other fans I hadn't met before to answer questions about people Frank mentioned in his lyrics, about other Turners, about events from 10 years ago or about places Frank will play in 2018. To take part in a "Little Changes" dance-off (see #07) and to play a… let's just call it a unique game of Pictionary :-) Always fun! Thanks to everyone involved.
"Once more to the boards, One more curtain call…"
#03 Watching the lighting effects at the show
When I'm at the barrier at a Frank gig or somewhere in the crowd I don't always pay attention to the lighting effects at the show. On the occasion when I do, the reaction usually is something like "Oh, that's pretty / cool / neat!" At Lost Evenings I've spent three nights at the back of the venue and one up in the balcony and this time had a good view of the lighting design and it was amazing all weekend. There was such a variety of colours and effects. Each of the 72 different songs that were played in these four days had their own lighting design or at least that's what it looked like. It was quite impressive.
We spent the third night at the back close to the sound and lighting desks and it was really interesting to watch the lighting technician (whose name I still don't know, sorry!) do his job. I sometimes forget how many more people than the sound guys and the roadies are involved in a concert production like these. That 3rd night was a good reminder. So… "Let's hear it for the crew!"
"Let go of the little distractions,
Hold close to the ones that you love,
Because we won't all be here this time next year…"
#04 Remembering Scott Hutchison
Amidst all the joy there also have been a few very sad moments over this weekend. I think all of us fans, who were on our way or getting ready to travel to London on Wednesday / Thursday last week were following the news from Scotland, where Frightened Rabbit singer Scott Hutchison had been announced missing. At the previous Lost Evenings Scott had been one of the many support acts on the main stage and even though I didn't know much of his music, I was worried by the news. And shocked and saddened on Friday morning when it was confirmed that Scott had indeed taken his own life. On that first night Frank played "Modern Leper" a Frightened Rabbit cover he had recorded some years ago. All through the festival there was Frightened Rabbit music on the speakers. We raised our glass to Scott at the end of the pub quiz. So many heartbreaking moments. But maybe it was some comfort at least, that we were all there together.
"Now I'll play and you sing
The perfect way for the evening to begin"
#05 Singing songs with the Arkells on a street corner in London
This was probably one of the most surreal experiences of this weekend! The Arkells are kind of a big deal in Canada, but not in Europe yet, where they are still mostly flying under the radar. They've been touring with Frank in the US/CAN and they were supporting him in the UK on the April tour; that's basically how I was introduced to their music.
The public sing-a-long started with a tweet
??Heading to London. Day off.
Currently looking for a pub with a piano. Who wants to hang after work and we can sing some songs? Stand by for details! ??

— ARKELLS (@arkellsmusic) May 10, 2018
A couple of hours later we and about 50 Frank and/or Arkells fans joined them in a pub for a intimate gig and from there at some point even moved the singing outdoors
It was insane. And awesome! We also had the chance to chat with lead singer Max for a bit, which was pretty cool. I admit I was surprised to find out that he knows Germany quite well, at least geographically. He's such a kind and lovely guy *sigh*. But he IS Canadian, so that's basically a given ;-).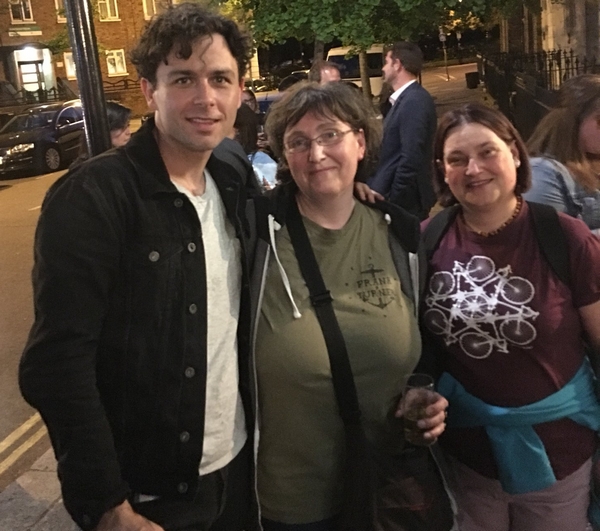 On Saturday the Arkells also played at Dingwalls, a small club down the road from the Roundhouse and we've mainly been there to see Felix Hagan & the Family (see #09) as their support. But it was an interesting experience to see about 250 Canadian Expats or tourists go crazy in dingy Dingwalls once the Arkells entered the stage. Like I said… they are kind of a big deal over there, playing big arenas and stadiums and here there were 250 lucky Canadians in London seeing them very very close up. Fun!
"Colleagues and friends condescend with a smile,
But this is my culture man, this is my home"
#06 Being part of the Frank Turner Fan Community
By now for me each Frank gig actually feels a bit like "coming home". It's not just in the way that we all love the same music. It's not just the way Frank makes us all a part of the show and thus creates this sense of community. I've been to 32 Frank gigs since September 2013 and especially in the last three years I've met and chatted and connected with so many other people. Some I met at the shows and stayed in touch via social media. Some I've met on social media and then met at the shows. But it's always nice to see familiar faces and to chat with people I've met before at gigs or on social media. In Camden last week you weren't just meeting other fans at a gig. You also ran into each other in the pub or on the tube or on the streets. There were Frank fans everywhere and it was so lovely to see.
During my first two years as Frank fan I was going to gigs on my own and didn't connect with anyone. From Lost Evenings 2018 I went back home feeling sad that I didn't have enough time to meet, chat and catch up with all the lovely fellow fans I had encountered over the last three years. And I'm so grateful to Frank for giving me this community.
"I've been skirting round the rim of doing something
Brave, and not just standing, but jumping in"
#07 Leaving my Comfort Zone
This one goes hand in hand with the community (#06). Taking part in the FTHC Flag in 2016 was a huge step out of my comfort zone. Starting to chat with people at gigs as well, but that feels pretty normal by now, for which I'm so so grateful. This year I was pulled out or rather stepped out of my comfort zone during the pub quiz (#02), when one member of each team had to join the 'stage' for a "Little Changes" dance off. I was the only one in my team who seemed to have watched the dance tutorial, so I thought… "Oh well…" and volunteered. Well aware that clips of this would make it to social media. A few years ago you would NOT have caught me dancing in public. At least not in front of people. Not on a clip on the internet. But this year I was strangely okay with that. Comfort zone my ass ;-)
At the @safegigs4women pub quiz at @camdenmonarch, the final round was a dance off set to @frankturner's Little Changes, with @davejgiles on guitar! #LostEvenings pic.twitter.com/rJReajasU2

— Lost Evenings (@Lost_Evenings) May 14, 2018
"And the only things that hold me back are the things I hold inside"
#08 Hearing Sailor's Boots (as an opening song)
A few years ago I wrote quite a few words about that song and why I like it and what it means to me. Frank doesn't play it all that often, but I had hoped to hear it on the "Sensible Sunday", as it was only Frank with his acoustic guitar that evening. I watched the gig from the back, next to the sound / lighting desk (see #03). I could sneak a peek at the lower two-third of the setlist taped to the lighting desk. But I didn't see "Sailor's Boots" on it and therefore had resigned myself to not hearing it during that weekend.
But then Frank entered the stage, stepped up to the microphone and started the evening with "If I had been born 200 years ago… " which is the opening line of this song and it BLEW MY FUCKING MIND. Seriously. From the corner of my eyes I noticed my friends cheering for/with me because they know how much this song means to me. That opening alone made my night on Sunday.
Another lovely memory from Sunday was that the lighting guy dug out another setlist for me, when I asked for one and the one taped to his desk had already been given away. I usually don't care much about setlists, but this was definitely a night to remember!
"We've all got secrets that we hold inside,
The worst little things that you never confide"
#09 Being able to thank Felix Hagan for playing "Be A Freak"
I haven't really mentioned Felix Hagan & The Family on this blog yet, have I? They've been supporting Frank on the UK tour in 2016 and I've been a fan of them ever since. It's difficult to describe their music, genre-wise. Its a wild clash of glam-rock, punk, pop and musical-theatre. Hidden under all the glam and glitter there are not just amazing musical arrangements, but especially on their latest album "Attention Seeker" also some truly wonderful and meaningful lyrics. Meaningful for the sometimes still messed up mind of mine anyway.
The first part of the song "Be A Freak" feels like Felix had not just glimpsed into my mind but put a scalpel to it and dissected it for the world to see. (Excuse my theatrics here, Felix seem to bring that out in me). The chorus and the song itself is very uplifting and positive, so all in all it's a song I obviously needed to hear. On the album. But also live. We saw Felix Hagan & The Family play two gigs this weekend and they played this song at their first one at the Nick Alexander Memorial Stage. And I was screaming along so loudly and happily, because I was so grateful to be able to do that somewhere else than just in my car ;-).
On that same night we ran into Felix in the street on our way to catch Frank's DJ set at Dingwalls. As my friend Amanda knows Felix from back home in Manchester it was no big deal to flag him down to say Hi. I think I turned into a bit of blubbering mess, telling him how much "Be A Freak" means to me and how happy and grateful I was that they played it that night. At that moment I was sure chances of seeing Felix play another gig solo or with the Family anytime soon, were slim as I was sure they wouldn't ever tour Germany and all my vacation days 2018 were pretty much booked off for Frank gigs and some real vacation. Therefore on that Friday night on Chalk Farm Road I operated under the "Thank and hug your favourite artists when you can!" directive. Thanks again, Felix!
Added on 1st September 2018: A couple of weeks after Lost Evenings, the Arkells announced 3 gigs in Germany and a few in the UK for November and they will bring Felix Hagan & The Family as support. Yay! The dates first seemed to stupidly clash with my small Frank tour in November, but on 2nd glance actually fit quite nicely, as I'll only had to add another night to my Hamburg weekend to see them play there, two days after the Frank gig.
"Because there's no such thing as rock stars,
There's just people who play music,
And some of them are just like us…"
#10 Seeing Frank Turner on stage at his own festival
He's the reason this all happened, but what can I say/write about Frank, that I haven't said before? His music and his lyrics mean so much to me. I admire his way to 'own' a stage when he's performing on it. I love how he gets the crowd involved to form a community for that night and make it memorable for everyone. Just like last year it's been amazing to see him do that on his home turf.
It was this interaction with the audience and the way we as audience reacted to him that once again filled me with joy and gratitude to be a part of this community (see #06). Because "doing my part" – of singing and dancing and clapping and sitting down and jumping up – is not just a lot of fun on it's own. I also always consider this a simple, but hopefully effective way to give something back to Frank for all that his music has given me over the years.
On the 2nd night when we all sang back all the words to all of the 10 year old songs of "Love, Ire & Song", but also occasionally on the other nights Frank seemed a bit overwhelmed by the amount of support and love and energy (and yes, also adoration) we in the crowd were radiating back to him on stage. At some point he talked about how as a 15 year old kid he was travelling up to Camden on the weekends, trying to be as punk as possible. When you think of that, it make sense that he was a bit stunned by being back in Camden 20 years later, on a stage playing to 3.000 people in a sold out venue four nights in a row.
It was heart warming to see him react so honestly appreciative to the crowd. He was clearly humbled by this and I love him for it. Call me a 'groupie' or fangirl or whatever, but his reaction and connection to his fanbase matters and it means something! To me anyway, due to all the positive changes – the community and friendships and experiences – that have happened in my life, because I've discovered his music five years ago.
There are rumours of Lost Evenings 3 taking part somewhere else than London, thus I'm not sure if I'll be a part of it next year. But I have six more Frank & the Souls gigs lined up for this year (and already two for early 2019 *g*) and I'm sure at each of those I'll make many more memories thanks to old and new friends and always thanks to Frank, Tarrant, Matt, Nigel and Ben on stage. And of course always also thanks to the crew behind them ;-)