I had already started writing a "2012 in Retrospect" post over the last few days, but it just never felt right. I'm not sure if I'm just not in the right mood for a look back or if I'm just not in the mood to blog something. Anything. I have no idea.
I had even started compiling lists of favourite movies, novels etc. but then I thought… WTF? Well, maybe not literally and I'm trying to depreciate those lists. I usually compile them too. But this year I just didn't feel like it. Maybe I'm just suffering from some kind of end-of-the-year-blues. Which surprises me a little bit, because the year in fact had been an amazingly wonderful year for me. Maybe I should focus on that to just get out of this weird funk.
2012 was the year in which I decided to just test the waters in regards to new job openings and my qualification and I ended up hitting the jackpot with my first application, because I got the job. And I'm still quite happy about that and grateful for the opportunity. Grateful for the interesting work and the wonderful coworkers and basically for most of the things that have to do with it. It almost feels like every other event or experience of 2012 pales in comparison with this major change in my life.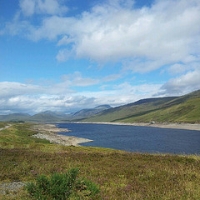 I took two longer vacations and both had been wonderful.The first one in May took me to Stockholm and the second one in August to Scotland. I will post some more photos of this trip soon, I promise, but at least here is a tiny preview.
2012 was also void of any major health problems for me, which was a nice change from 2011.
I've read 17 novels (will probably finish the 18th today or tomorrow) and have seen 15 movies on the big screen. I've watched way too much TV shows, but I cut back on that in the summer and dropped a few from my regular schedule. I'm still watching more than enough I think :-)
I haven't been as active (cycling, going to the gym) as I had planned to and I'm determined to start that again in the new year. I won't make any resolution or promises though. The whole "Promises for 2012" thing didn't work out as I had planned it. I blame the whole lot of activities that were required for leaving the old job and starting at the new one.
My favourite hockey team – the Cologne Sharks – has a great year this season so far. It was about time, after the last couple of years which were bad. Really bad. It has been a lot of fun to watch and I'm pretty optimistic for the rest of the season as well.
In the last few weeks I got hooked on a new "ship", not on TV but in a novel series. "The William Monk series", which could be described as the Victorian London version of the 21th crime and legal drama shows :-). It definitely would make great movies or TV shows.
There have been 19 novels so far, I'm currently reading the 5th novel, but admit that I have bought and skimmed through novel #09 already as well. Because with 19 novels in the series so far it was inevitable that I'd be spoiled about which of the characters will hook up with each other. I had read there was a newlywed couple in novel #10 and I didn't want to work my way through four more novels to finally read about how exactly that love story would unfold. Yes, I'm a big nerd sometimes.
So I skimmed through it yesterday morning and read the scene I was waiting for and have to admit it was a bit disappointing after all. Not the big romantic gesture, swoon worthy moment I might have pictured it to be. Maybe this should be a lesson for the impatient reader (and shipper) :-) But I'm sure I will continue to enjoy novel #05 and the following anyway.
My vast enjoyment of these novels might have to do with the fact that I picture Richard Armitage and Emily Mortimer as  the two main characters William Monk and Hester Latterly. If these novels would ever be turned into a movie or TV series, those two definitely would be the perfect cast IMHO.
| | |
| --- | --- |
| | |
One last thing worth mentioning for 2012: I started writing a novel. In English, which is not my mother tongue, but the whole story was happening in English in my mind, and there was nothing I could do to change that :-).
I started it as my NaNoWriMo project, and I didn't manage to write the 50.000 words in November and I admit it was put on the backburner for a few weeks, because I was so so busy with other stuff. I had planned to write more on my long Christmas vacation but then William and Hester (see above) crossed my path. Also I felt like I was stuck on some parts of my story and I didn't find the right way to get unstuck. I wrote a tiny bit this afternoon though and am determined to do so tomorrow as well.
Originally I had also planned to start working on the last big grad school assignment, but that was put on a backburner as well. But after four busy months in the new job with almost no time off till now, I say taking a break from everything that requires a lot of thinking is allowed. I will do better next year, I promise (to myself anyway).