I had quite a few plans (no big plans, like going out doing stuff, but more like finally getting some things done, chores and all) for this long weekend, but I haven't been all that productive yet, which makes me feel bad about myself already.
But I should give myself a break. I had to work yesterday (Saturday) afternoon, so I had to leave my apartment around 13:00 and didn't get back until 20:30. Not much time to get done in the morning, especially as I needed to catch up on some sleep, after getting up super early on Friday to catch the Grey's finale live :-).
I was mildly productive today and also finally found the time to nag Bro3 to get my new bike ready for me to use it *g*, i.e. to mount the cyclocomputer and the water bottle cages on to it. I had actually not planned to go on a ride today, but then I started to feel bad about being so lazy, especially as the weather forecast only had rain and rain and more rain for next week, so I wouldn't be able to go on a short ride then either.
So in the end, I managed to overcome my laziness (go me!) and went out to a short (7.5 km, 30 minutes) ride in my neck of the woods, so to speak.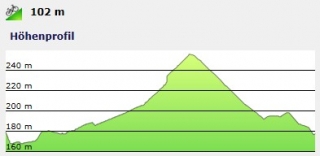 The elevation difference of this tour used to be no big deal a few years ago, when I was in much better shape. But at one point at the top of the steepest "hill" I was so exhausted and not just out of breath, but actually oxygen deprived. Or whatever it is that makes you dizzy and makes your chest hurt.
It was kind of pathetic, really, and a good sign that I really need to get back on my bike regularly. Well not back on the bike in the truest sense of the word, because it's a new bike and this was the first time I used it :-) And even though I felt pretty bad during the ride, I felt really good afterwards, but that's the whole point of it all, isn't it? Besides knowing about the positive effects on my health, it's the endorphines that make the ordeal of climbing hills and making miles worth it, right? Too bad, that the weather will keep me from doing it again over the next few days.