A round-up of various things on my mind. Or things that have happened or anything, really…
Finding Fraser
Diana Gabaldon herself recommended this cute little story, so I thought I'd give it a try. And I haven't been disappointed yet. It's about 29 year old Emma, who after some disatrous dating- and relationship experiences decides to go looking for her Jamie Fraser in Scotland. I'm about halfway through and I'm enjoying it a lot. It's funny, fluffy and let's face it, every Outlander fan can relate to her on some level, right? Because… Jamie Fraser!
Health status
I went to Prague with still some breathing problems, which still haven't quite disappeared yet. I got a bad cold while I was IN Prague, which sucked and that still isn't quite gone yet either. It rather looks like the infection went back to my respiratory system and I'm back at the start. Although not as bad as I have been. The MS symptoms are more or less gon, which is a relief at least.
Lightning Strikes Twice
I've started re-reading this wonderful wonderful Grey's Anatomy Fanfiction, written by the amazing AriaAdagio. If you've loved Grey's and are still pissed off about how they handled Paddy's demise, you should check out her latest story "Recover", in which Mere does pull the plug, but Derek doesn't die after all. Great work! And she's working on a follow up story for that one, so… just consider this the real canon from now on and you'll be fine. It's much better stuff than the show has been in years, anyway :-)
Outlander
I wrote down my thoughts about the upcoming Wentworth & Beyond episodes. Some of the folks who have already watched episode 15 say it's not as horrible as expected and that the first half of episode 16 might be much worse to stomach. Others say that there was some really horrible stuff in 15 already and think that it can't really get any worse than that. And we'll have TWO weeks to know which camp is right! *sigh*
And then Outlander will dissapear from our screens for… maybe up to a year? #Droughtlander Galore, it seems. I'm seriously considering to re-read (with skimming some parts, I admit) the whole series until then. I will definitely re-read the 2nd book "Dragonfly in Amber" this summer to get the feel for what they are shooting in Scotland right now. Because filming Season 2 started a few days ago!
Prague
A post about the trip to Prague is in the making. Well, it's going to be more of a photo gallery with some introduction, but still. It just takes some more time to look up the English names of the places I've snapped photos of for the photo captions. But here is a preview :-)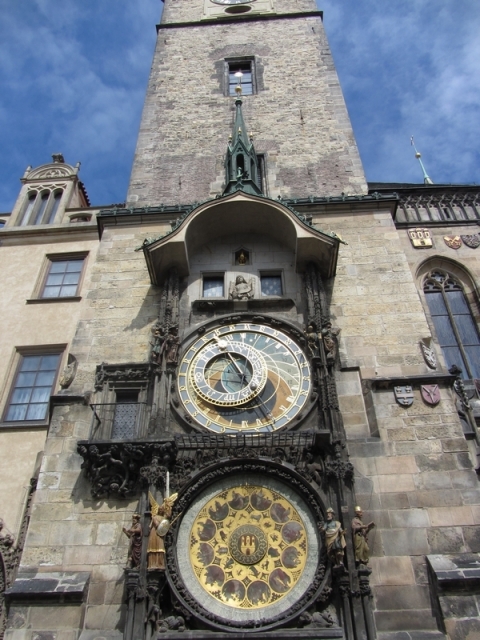 Procrastination
Once again I excel at putting things off and letting myself get distracted and… ugh! Just not the best and most productive way of living, I guess. But, one step at a time. One tiny task at a time. Because deep down I know that thinking all at once of ALL the things I have to or should or want to do, causes the overwhelming "OMG it's too much, I don't know where to start, so I don't start at all" train of thought.
"Positive Songs for Negative People"…
… has been revealed as title for the new Frank Turner album and I'm soooo excited for it. From what Frank already shared about this album it's a perfect title, as the songs are about getting through bad stuff and getting back up when you've been knocked down. He also shared another song from it and once again I love it. Great tune, great lyrics… Ace!
(I know I've cheated a bit with the order of the P items in this list, but I wanted to end this post on a positive note ;-) )
Scotland
Now that I've returned from the one vacation (Prague) I really have to get started planning the details of my next trip in 2.5 months. Edinburgh, Glasgow, Lewis & Harris! Really, really looking forward to Lewis & Harris. Islands. Beaches. Standing Stones. Scottish landscape. The Ocean. Bliss! Check out the photos here and you'll get an idea….